COCKTAIL BAR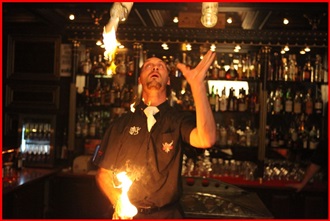 Who does not love them – Mojito, Chupito, Caipirinha…. and other exotic drinks. Our bartenders, who are among the best in the Republic, enjoy proving their skills to you. Cool drinks for hot nights – stirred, mixed or shaken and prepared in free-style manner. Our show bar in old English style is the benchmark of international cocktail bars.
And there are shows and performances from our girls in-between, plus the possibility to follow the action in the club area upstairs on the large screen or – alternatively – to watch live sport events.
Do you love football, ice hockey, golf, boxing or any other kind of sport? Are you a passionate fan? Experience the game in the unique environment of our cocktail bar. During big championships and tournaments, we regularly conduct betting competitions.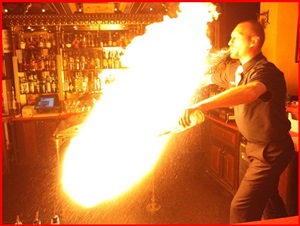 And who wouldn't like to watch a hot body moving in the rhythm of the music? You will experience unrivalled lady stripteases on a regular basis throughout the night. Suitable for birthday parties, bachelor parties, company events; or simply for your entertainment and excitement.
It is the perfect environment to forget the everyday hassle in a genuine atmosphere.